Kidney patients to benefit from UoN, MoH partnership
Location / Venue:
Dept of Surgery Boardroom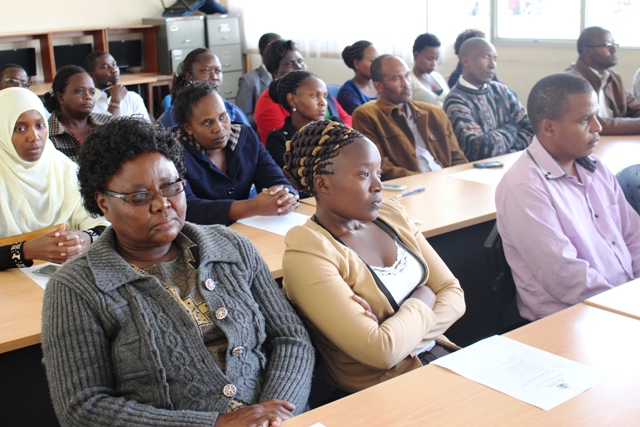 Newly admitted students follow proceedings during orientation.
The University of Nairobi (UoN) has partnered with the Ministry of Health (MoH) to boost the country's capacity in the treatment of kidney diseases as the government moves to increase access to quality and affordable healthcare.
The partnership will see close to 40 medical practitioners from different counties undertake fully funded short preceptorship courses offered at the East African Kidney Institute (EAKI) located at UoN's College of Health Sciences (CHS).
The courses at EAKI are offered under the medical equipment services programme in the Ministry of Health.
Speaking during the orientation of the first batch of students to be admitted at EAKI on 2nd June, 2016, CHS Principal Prof. Isaac Kibwage said the partnership was a major boost to patients with kidney problems in Kenya.
He urged the students to take the training seriously for the benefit of kidney patients in the country..
"Kidney problems have become serious for the government. We expect you to purely concentrate on your studies and to go back and provide a serious function and support the government in providing services to patients with kidney problems.
He said the partnership was a good gesture from the government and it will ensure that Kenya has high caliber of health practitioners.
"With such initiative, Kenya will have highly trained health practitioners. Neither will we have to import them from other countries nor send our patients out of the country in search for this health services," Prof. Kibwage said.
During the orientation, it was also revealed that plans were underway to construct a kidney hospital with help from the African Development Bank.
"Plans for putting up a complex are in top gear and the construction will kick off next year. There will be a whole renal hospital at Kenyatta National Hospital to provide services to all patients," EAKI Deputy Director Anthony Were said.
According to Were, the 100-patient facility will be equipped with modern kidney treatment machines and well-trained health practitioners.
The training for the short courses will take 12 weeks and the ministry booked the first year to train 9 nurses, 3 physicians, 5 pharmacists, 8 medical officers, 1surgeons, 6 nutritionists, and 6 laboratory technologists.
Below are the preceptorship courses offered at the institute:
Preceptorship in Renal Nursing
Preceptorship in Renal Laboratory Science
Preceptorship in Dialysis Access
Preceptorship in Dialysis for Physicians and Medical officers
Preceptorship in Renal Pharmacy practice.
Preceptorship in Renal Nutrition